Welcome to Year 6! 
Class Teacher - Mrs Hodgson
Teaching Assistant - Miss Vernon
Year Six took part in the Schools Race for Life along with over a thousand other children from local primary schools. We all managed to complete the race and were all given a medal. We have been collecting sponsors and hope we have raised a good amount for this very worthy cause.
As the outcome of our topic on modern Greece, we held 'Taverna Exi' in our classroom. We invited our parents to come and experience traditional Greek food and dancing. We created presentations, quizzes and information and displayed artwork reflecting Greece's landscape, architecture and culture. 
Year 6 were lucky enough to have a visit from Paul Walters, from Horus Birds of Prey, who came to show us his collection of Owls. It was a fantastic experience and we now know lots of information about owls. 
This term, our Theme work will focus on World War One. We will be finding out how the war started and what life was like for those who fought in it. Our class reader will be Private Peaceful written by Michael Morpurgo and this will help us to link our Theme work and English work.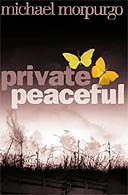 In Science, we will be studying light. The children will be exploring the way that light behaves, including light sources, reflection and refraction.
Year 6 Autumn 2 Newsletter
Year 6 Spring 1 Newsletter
Year 6 Spring 2 Newsletter